Facebook. It's not going away anytime soon. It's a social media marketing powerhouse turned prime advertising opportunity.
So your business needs to get on it because whatever you might think, your target audience is probably on it. And the best thing? Facebook allows you to target them very specifically.
Almost a quarter of the entire world's population logs in at least once a month so you as a company cannot afford to not utilize Facebook's marketing potential.
Quick Links
Why Facebook?
Launched in 2004, Facebook was originally designed as a service to allow college students in the US to keep in contact. Whilst still first and foremost a social outlet, Facebook has now evolved to offer businesses the opportunity to grow in numerous ways. For example, it can:
Demonstrate the company's expertise, establishing it as an authority in the industry
Act as an outlet for customer feedback and suggestions
Improve word-of-mouth advertising
Get noticed by potential customers searching for your products and services
Serve as an outlet for new product and exclusive offer promotions
Help cement your brand's identity and make its profile more visible
Help to nurture customer relationships
Get more people to your website
Creating a Page
If you already have a personal Facebook account (you do right?) then it is really simple to set up a page for your business. If you don't head over the Facebook – it's really quick and easy to get set up. Note: If you already have a Facebook page set up, feel free to skip this section and begin promoting your page. First step, head over to the Pages page. And select 'Create Page' in the top right.
On the next screen you'll be presented with 6 options as to what you are creating a page for. If you are a small local business serving local customers, make sure you select 'Local Business or Place'. If not, select whichever is most relevant to your business.
Local Business or Place: If you have a physical store, restaurant or other type of organization where you want customers to visit you, this is the category for you.
Company, Organization, or Institution: If you do not have a physical location or if you have more than one location (for example a franchise parent company) then this is the category for you.
Product or Brand: For companies whose products are sold through multiple websites and/or stores. Examples would be Nike, Apple, and Coca Cola.
Artist, Band, or Public Figure: For those looking to promote themselves, a band, or another type of artist.
Entertainment: For TV shows, books, radio stations and magazines.
Cause or Community: Excluding charities and non-profits which should use the 'company, organization, or institution' page type and choose charity/non-profit as the category, this is for local causes or communities.
You'll then be presented with a small form to give your business a category and also input the address of your business. It's time to fill in as much detail about your business as possible, really sell it. Make your business stand out from your competition. You'll also need to add a profile picture and a cover photo for your page – be creative but make sure they are really good quality. Businesses often use logos as their profile picture, as this a safe option. Some retailers even use an image of a shopping bag with their logo on. Use the cover photo to display the unique selling point of your business. If it's your employees, showcase them in action or as a group having fun. If it's the success you bring your clients, showcase this success in the photo with a graph or similar. If you sell products, use a lifestyle image of them in action to wow your page's visitors. Once you've saved all the information, you are good to go and your page is ready to start attracting fans.
Page Created – Now What?
Congratulations on your page – I bet it looks incredible! Now you have all the basics set up, a profile picture, cover photo, full contact details & information about your business – it's time to get your first fans. The best places to start is to invite the friends you are already connected to on Facebook – they might not be your exact target audience, but the chances are they will like to support you and may even know someone within your target audience. Simply click the 'Invite Friends' link and invite away. Next up, contact your existing customers, clients, etc. and let them know you have a brand new Facebook page, you could even ask them what they would like to see on it. Some may like discount codes and giveaways, whereas others may be looking for more helpful tips. Simply pop them over an email with the link to your page and invite them to like it. Now you've started getting some fans on your page, it's time to start trying to engage with them…
Organic Posting
Now you are all set up, with a small fan group which is growing every day – you need to start posting to keep them engaged with your business. There are a many posting options for you to engage with your fans: Text Post – This is the standard type of post that just includes text, no link or image. It is often used to ask questions. This form of post is becoming decreasingly popular with brands as generally text is not as engaging as imagery. Link Post – The biggest drive of traffic to your site will be link posts, with Facebook Open Graph they give the appearance of image posts with a large landscape image at the top of the post and customisable titles & descriptions can be tested for improved click-through rate. Image Post – Probably the most popular type of post created on Facebook and also the most engaging. Make sure to use high quality images to get the most out of the post. Photo Album Post – Similar to an image post, but using multiple images to form a gallery. We've seen galleries go viral where just one image within it has been picked up and shared thousands of times. Photo Carousel Post – A relatively new post type to Facebook, you can select multiple images as well as links to send traffic through to your site. Try featuring new collections or products too and promoting the post (see Ads section coming up) to get the most out of this type of post. Video Post – Facebook has really been pushing its video capabilities in recent months and is now seeing video views to rival the likes of YouTube. People are no longer embedding YouTube videos as much – direct Facebook videos are getting over 500% more engagement so not something to miss out on. Short videos work best, so try to keep them under 60 seconds. Offers – An often underused tactic on Facebook pages but potentially huge for engagement if positioned correctly – offer exclusive offers to your Facebook fans to make them feel valued and appreciated whilst building brand advocacy. Every page will have a different engagement – although there has been research conducted on how to get the most out of your page. Your posts should: Be Short – Short posts are easily digested and more likely to be fully read by the user (and therefore get a reaction) it also keeps focus on the content you have shared, be that an image, link or video etc. Be Original – Don't try and copy someone else's post word for word and expect the same results, not only will Facebook realise what you've done and show your post to less people, readers will have seen it before and be less likely to engage. Connect with the reader – If you can get some kind of emotion from the reader, they are more likely to engage. Generally this should be positive such as happiness, joy, inspiration etc. and this will result in more likes, loves & shares. Controversy can also lead to a high engagement, more through comments – however be careful with controversy as it can lead to losing fans. The news feed algorithm takes into account a range of factors to determine what it shows to visitors in their news feed, here are the most important factors: Affinity – This refers to your relationship with the user, how much he or she has interacted with your page in the past. Weight – Facebook places priority based on post type, giving top priority to videos and photos. Decay – How old is your post? The longer your post has been around, the less likely it will be to show up in news feeds. The key (as with all marketing & branding) is consistency & quality. Find your voice, test things out, once you know what works, focus on doing that more and even better than before.
Paid Adverts
Facebook has one of the best advertising platforms in the world – it allows targeting on such a granular level that you can pin point your target audience and show your advert only to them. No longer do you need to set up a print ad in a local magazine and hope it drives sales with no obvious return on investment. Facebook is a powerful, versatile, and effective advertising platform with hyper-targeting abilities – meaning you can specify down to a certain age, gender, location, interest, job, income, favourite sports, political views and many many more (with more being added all the time). Facebook ads are comprised of three main components – a campaign, an ad set, and the ad itself. These parts create your campaign structure: Campaign – Here you choose the objective of your ads and start working on your ad set, it is the foundation of your ads. Ad Set – During your ad set creation, you define your audience, budget and schedule, and your Facebook campaign can consist of different ad sets, which means you can specify different options for each of them – this is great for testing different audiences. Ad – This is what users will actually see and (hopefully) click on. It consists of an image (or images), headline and description. Similar to ad sets, you can have several ads within an ad set. There are many different Facebook ad types on offer with a whole range of different goals and objectives you can select.
Here are the main ones to drive more income to your business: Page Post Link – The most common type of Facebook ad out there at present. The usual goal is to drive clicks through to your site – to a dedicated landing page which should represent what the advert offers. If you have a particular promotion running at your business, you drive traffic to a landing page which displays a discount code – you could then measure the use of this discount code to your business to determine the return on investment of the campaign. Lead Ads – A relatively new addition to the Facebook ad types – these ads allow you to generate new leads (email addresses) directly through the Facebook interface so you don't even need users to leave the platform. Decreasing the steps should result in an increased uptake – you can then follow up these leads with a dedicated welcome email and follow up sequence to convert them into customers. Page Likes – If you want to grow the number of likes on your page it is easily possible by promoting your page in the newsfeed. Whilst the total number of likes is often seen as a vanity metric, with the targeting options that are currently available to Facebook ad users – you can build a page following filled with 100% relevant potential customers. Page Promoted Post – The quickest form of using Facebook ads is to add a boost to an organic post on your page. Naturally you will be posting engaging content on your page anyway but you can increase its readership on Facebook both inside your page likes and outside using the extensive targeting options. These are great options to give a quick boost to a particularly successful organic post, or if you want to give an offer or link more exposure.
Facebook Insights – Learn More About Your Audience
Every business has a clear perception of what their target audience is, but modern dynamic businesses realise that sometimes your product starts becoming more appealing to different audiences and you have to adapt to maintain your growth. Facebook insights is a great tool to discover more about your current audience, as well as analyse your current marketing efforts for your page.
Overview
The overview of your insights gives you a very top level view of your audience & performance. Each section is summarised with what Facebook believes is the most important factor for you. You'll be able to see the highest demographic audience you have (Women 25-34 in the below screenshot), how far your posts have reached, and the amount of new likes to your page.
Likes
The likes section of the insights lets you really dive into the growth of your page. As well as seeing a cumulative graph of the likes of your page (in screenshot below) you'll also be able to see the net gain each day – so you can identify key times where you can capitalise on new likes for the page. Further down you will also see exactly where your new likes have come from, whether they have come from adverts, page suggestions, directly on the page or elsewhere (such as a like button on your website) – you can use this information to analyse how different marketing campaigns are performing if one of the goals is to grow your Facebook page.
Reach
Here you will find how far your posts in a given time frame have reached (each day). It's a great little data set for finding particularly viral posts that you may have not realised have been so successful. It splits out your organic & paid reach so you can see where you could potentially boost posts in future. Further down the page you'll see the amount of reactions (likes, loves, etc) per day on your posts as well as comments and shares – again this is a great way of learning what exactly your audience on Facebook is interested in and what they best engage with.
Page views
If one of your marketing campaigns is driving traffic to your Facebook page, you can analyse how many people have been on your page using this insights section – it also details where they have come from.
Actions of Page
Leading on from the Page views section – the 'Action on Page' section lets you find out what they are doing once they are on your page. If you have a call to action set up, or an app with a giveaway involved you'll be able to analyse how many people are seeing & clicking on these.
Posts
This is probably the most important insights you can gain from your Facebook page to learn what to post in future. This section reviews everything you've posted (with a given time frame) and lets you see the reach & engagement of each one. The first graph shows when your fans are actually online. Whilst the state of the News Feed doesn't lend itself to showing the most recent updates, it is one of the deciding factors – so knowing when they are online can help you target both your organic posts as well as any paid adverts you are running.
The next part of the posts tab analyses the post types that you are posting on your page. Different industries and different audiences will respond very differently so it is crucial to regularly review this report to see if there are any changes in how your audience is reacting.
Videos
If you're mixing up your posting schedule with some videos – this relatively new addition to Facebook insights (they are really pushing video right now) will show how engaged your fans are with your videos. It shows primarily how many people started viewing your videos – but more interestingly it shows how many people reached the 10 second point which shows increased engagement. At the bottom of the report (not shown in the screenshot) it shows your best performing videos with reach, views & avg. completion. Take note of the avg. completion in particular as it's a great indicator of video quality.
People
The final part of Facebook Insights takes a look at the demographics of the fans of your page. It shows gender splits, age splits & territory splits of your entire fan base. It then also looks into what sections of these are most engaged with your posts.
Running Giveaways
Giveaways are an incredible way of engaging your social audience – everyone likes the opportunity to win something for free. Define a Goal Like all your marketing campaigns however big or small, you should have a goal for your Facebook giveaway, something targeted and quantifiable. Be careful trying to have too many goals as it could end up not being as successful. Some examples of goals could be:
Collect email addresses for your email list
Get new customers
Promote a sale or promotion
Promote the launch of a new product
Grow brand awareness in your local area
Come up with a goal that will grow your business through new clients, customers, and sales rather than a giveaway for likes on a Facebook page. Getting 1,000 new page likes from people who will not become customers is useless to a small business.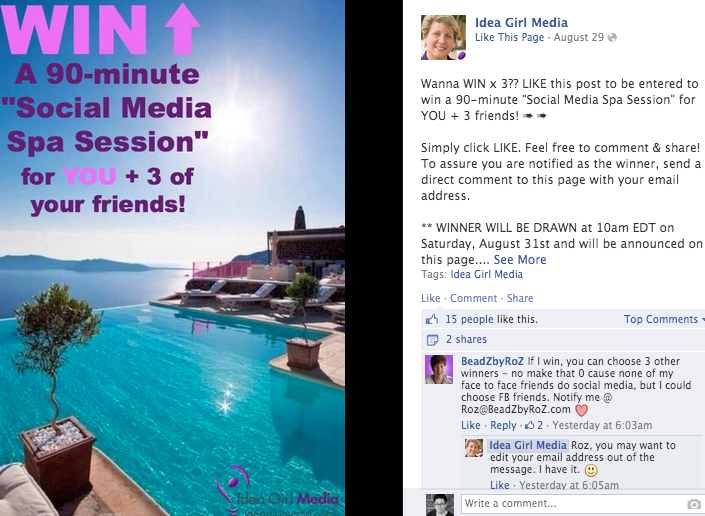 Choosing a prize The prize if more important than you probably realise – the prize has to be mega-specific to your target audience to ensure the entrants are of a high quality and actual potential customers. The prize should be large enough to turn heads and make them part with their email address or whatever information you choose to collect as an entry method. Many businesses will give away something like a free iPad. Although most people would love to have a free iPad, this prize attracts too many people, many of which may have no interest in your business whatsoever. By picking a prize relevant to your business, like a free personal training session, free cake at your bakery, or free gift basket of spa products, your giveaway will attract people who are interested in your business. Picking the methods of entry The method of entry should not be too restricting or you will end up losing out on entrants – but it should conform to your goal previous set. If it is to grow your email list, you should use Facebook to drive traffic to a Facebook app or landing page with a sign up form.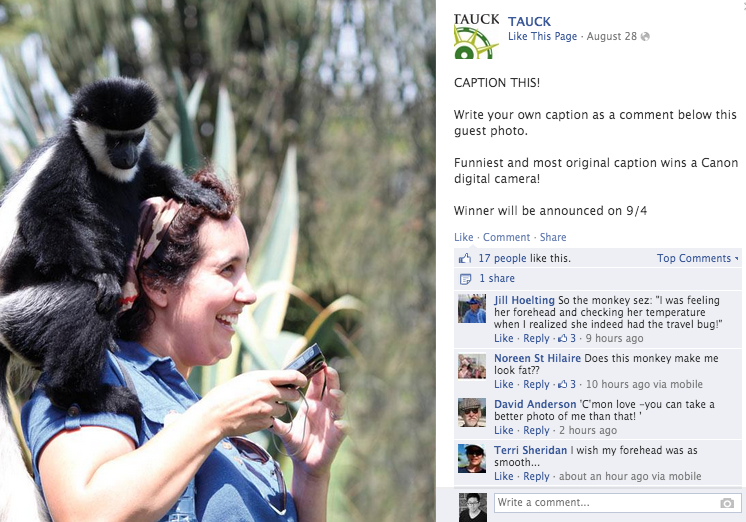 You can have entrants like a post, share a photo, comment on a post, tag a friend, like your Facebook page, or fill out a form on a landing page. Some tools even let you engage with entrants in other ways and make it easy to track entrants and pick a winner. Promoting the giveaway It's all set up and you've just launched it, now what? Promotion is key in any marketing campaign, and as ever – the more targeted you can get the better it is. If you know your audience is between 30-40, female, and within a 10-mile radius of your store – Facebook can pin point them to help you reach that exact audience. Organic Post – Create an organic post on your page with a mega-engaging image with the full details of how to enter. This will start reaching your most engaged fans quickly and once they've engaged it should start reaching more and more people. Paid Ads – You could either boost the organic post you have done or create dedicated adverts for the promotion of giveaway. Like previously mentioned, you can hyper-target these paid adverts to the exact people you want. Whether they need to like candles, be fitness freaks or own a business – whatever it is, you can target them. Email List – An often forgotten tactic of promotion a giveaway is promoting it to your current email list, even if the goal is to grow the number of emails you have, it's crucial you keep the ones you have engaged. Plus, if you have a viral friend refers friend entry method, these can also result in many more relevant entries into your giveaway.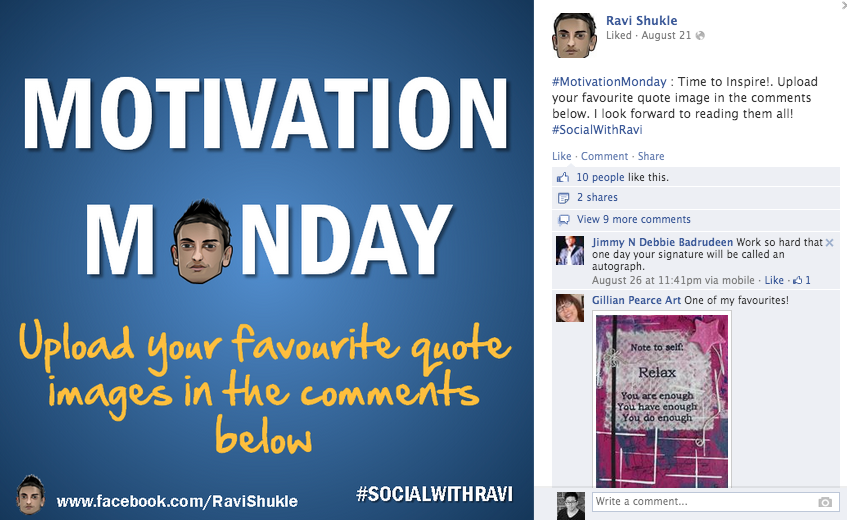 Post-Giveaway Facebook giveaways are exciting for all – seeing the buzz of all the engagement and interest in your page is always a great feeling, but you can't forget about the giveaway itself and that you have to pick a winner. Depending on the type of giveaway, you're either going to choose a random winner, or the person who best met the requirements for the giveaway (e.g. best photo, most referrals etc.). Now you've awarded the prize – you'll need to follow up with the entrants to keep them engaged with your business. If you collected emails – make sure you follow up with the entrants quickly. Thank them for participating and educate them on your company, possibly even give them a small discount code to entice them into becoming customers. You'll need to review the giveaway about a month after (this may vary depending on the industry you are in) – how did it fair with the return on investment? Total up the costs of the giveaway, prizes, postage, costs of any tools used, etc. then work out how much additional income you've had as a result. If you can see a positive return on investment – you should try it again and maybe tweak it to get an even better return.
Mistakes to Avoid
Not Utilising Your Cover Photo Your cover photo is basically your prime real estate for advertising – it's the biggest image on your page when someone visits so make sure you utilize it to its full potential. Fix this mistake by utilising the cover photo to further sell your business, or the lifestyle your business helps give. Just like Hotel Urbano does below – they sell the experience of the holiday you could go on if you use them. Other brands make use of the cover photo using their slogan alongside inspirational or relevant photos.
Not Integrating Facebook with Your Other Marketing Activity It's very easy to do these days with so many channels to consider (SEO, PPC, word of mouth, social media, print advertising, direct mail) it's easy to miss out one, and Facebook seems to be the one that misses out most often. So if you are running a campaign, whether it's a sale in your little boutique store, a 20% holiday promo, your handyman services or 2-4-1 cocktails at your local bar – make sure you include any information on the campaign on your Facebook. Not Asking Questions If you aren't asking questions to your fans, you're missing out on finding out more about your audience and making them feel part of your brand. Use images to ask the questions in a different way – get them to pick between two images side by side. For example, ask them to choose between cocktails, local sports teams, favourite meal of the day – make it relevant to your audience and they will lap it up. Not Being Consistent Being consistent is a great way to grow your brand advocacy and awareness, if you post similar content regularly then you'll catch your true fans that keep coming back for more. Building a consistent brand image is one of the most substantial competitive advantages possible. Sharing consistent content on your Facebook page might feel overwhelming. There's no doubt that curating & creating content is a challenge all businesses face, so learn to build out processes so you can schedule your content well in advance – using tools can help. Not Responding To Comments One of the best ways to build an audience and meaningful relationships on Facebook is by engaging with your audience – and replying to their comments is #1. Even if they aren't asking a question, try responding to a comment and ask them one – starting a conversation will reap greater reward in future. If you can't ask a question – thank them for commenting or at the very least like their comment from the page. Not Mixing Up Your Content The news feed algorithm will stop showing your posts if you keep only posting the same type of content, regardless of the amount of engagement you used to receive. Some brands that used to get thousands of engagements with every post, are now struggling to get more than 10 (and that's with a 150,000+ fan base).
It's crucial you keep your content mixed up. That's not to say you need to post every post type on alternate days each week – but once you know the top 3-5 types of posts on your page, you should try to incorporate these in a random pattern to keep it all mixed up for your audience. Only Posting Your Own Content Being self-promotional in a community setting will never reap the same rewards as community building. Make sure you share others content – whether it's a local blogger, or a local company (Pro Tip: Contact other local companies and offer a discount to their Facebook audience to get more exposure in your local area). Sharing content other than your own will be more likely to build engagement outside your initial audience and further relationships to these other businesses and bloggers (and it's all positive karma right?).
The Tools of The Pros
Facebook can obviously be used purely through the social platform itself, however there are many tools out there that can make your life so much easier, quicker and most importantly much more efficient and therefore save your business money in the long run as you can spend more time growing your business. Buffer (Freemium) Buffer is the go-to tool for social media scheduling – it started life just for Twitter but now encompasses almost all of the major social media platforms (except Instagram – but it's coming soon). This awesome tool allows you to schedule multiple posts at pre-planned times in (quite literally) the easiest way possible.
To get the most out of it, batch schedule your weeks' worth of posts all in one go – this will mean you don't need to worry about going into Facebook and posting every day – you can just monitor the engagement and reply when you need to. Shortstack (Paid) The original Facebook App developers – the tool has evolved greatly since its inception (well it had too, Facebook kept moving the goalposts). Shortstack makes it incredibly easy to create engaging social media contests and other campaigns through it's easy-to-use campaign builder. It has features galore from action-gates, voting, various entry requirements and more. As well as offering the flexibility of running a campaign in an app on the page or in the timeline itself.
A full suite of analytics allows you to monitor and measure your campaign's performance, and learn from it to grow your next campaign into something even bigger. Buzzsumo (Freemium) A relative newbie in the tools world – barely a year old and they are not holding back. Buzzsumo has a whole wealth of tools within it and continues to add more. One of these features allows you to find the most shared pieces of content around a certain topic – this is a great way to know what content will resonate with your audience. For example, if you are a local gym, sharing fitness or healthy eating articles with your audience will probably go down very well.Ffind the most popular articles through Buzzsumo for maximum success.
Another of the Buzzsumo features (on a higher paid plan) is the Facebook post analyser. Similar to the previous feature of looking for the most popular articles on the web for a particular keyword, this tool allows you to see the actual most popular posts made by other pages for whatever keyword you are looking for. This will help with your wording of the post as well as any particular successful images that have been used.
Postplanner (Paid) Postplanner prides itself on going beyond just scheduling posts, they built the tool to help improve engagement. There are three sections to the tool: FIND – takes the hassle out of working out what type of posts to do, whether a link will drive more likes or a video driving more comments, they find the scientifically best content to post to your audience. Next up is the PLAN section – the tool allows you to plan your posting schedule to work out when is the best time for your fans to see your content to ensure maximum engagement. Finally, they have the POST feature – the tool not only allows you to post your content, but easily recycle the best performing posts to further grow your audience. Facebook's Debugger Tool (Free) If you have ever tried to share a link on Facebook and it not show up as you'd expect it to, the Facebook Debugger Tool allows you to check what the Facebook crawler sees and point out errors for you to fix. So you'll always be posting the best links for maximum engagement.
Now what…?
What are you waiting for? Go find & engage with your Facebook audience…